Did you notice these Vampire Survivors hidden references?
Vampire Survivors is an auto-shooter that has defined a new sub-genre while simultaneously paying homage to old gaming. Everything from its pixelated look to its utilisation of Castlevania monsters and weapons, as well as a wealth of obscure secrets and cheat codes, demonstrates this.
These can range from minor easter eggs to fully-fledged extra characters, bringing back fond memories of your earliest forays into gaming as a hobby, where the promise of those virtual worlds stretches as far as your imagination's frontiers.
MissingNo And The Glitch Dimension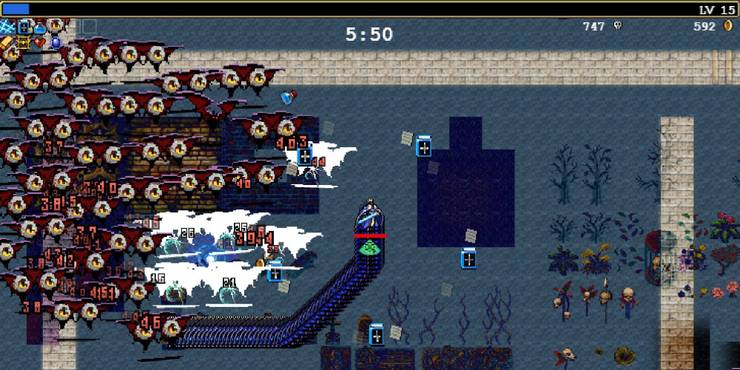 Glitches are an important part of game history, with many delivering some of our finest childhood memories. MissingNo, a playable glitch whose stats, weaponry, and look are randomly generated each time you select him for a run, is included in Vampire Survivors to commemorate this fact.
To obtain this character, you must first overcome the rigours of the Glitch Dimension: a strange perversion of the Green Acres stage that occurs when you activate both Hyper and Inverted Mode and rush into the lower-left corner of the stage. MissingNo will be yours if you can fight against enormous eyeball adversaries and keep your own eyeballs steady among the spectacular mishmash of scenery and background effects.
Petting The Dog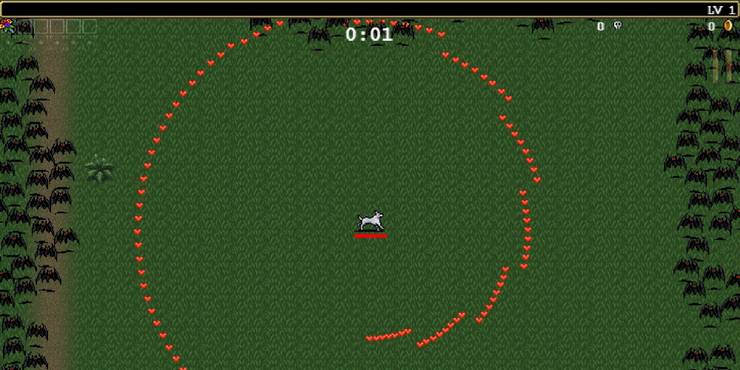 Petting the dog in modern games has become a healthy recurring practise, thanks to the popular Twitter account that archives which games enable you to do so. Vampire Survivors gladly participates, allowing you to pet the playable dog O'Sole Meeo.
To do so, simply play as O'sole in any stage and type "pet" on your keyboard at any time. This will cause a ring of hearts to form around you, symbolising O'Sole's happiness at being petted, and will zoom in to fully heal you. This is a sweet little touch, but it also has gameplay implications: fully mending oneself can spare O'Sole from an early check-in at dog heaven during a tough spot in a race.
The Konami Code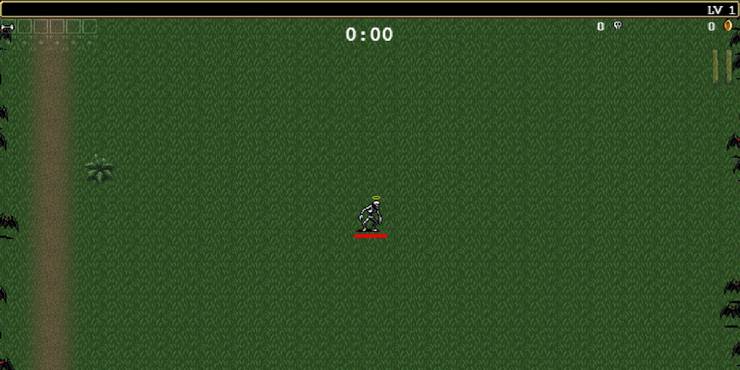 Given how much Vampire Survivors owes to the famed Castlevania series for its graphics and character designs, it's only right that the Konami Code, an iconic series of inputs that gave players an advantage in a variety of vintage Konami titles, including Castlevania, appears here. For a terrifying surprise, type an adapted-for-keyboard version of the code (up, up, down, down, left, right, left, right, escape, enter) on the main menu.
The surprise is the playable skeleton Mortaccio, who would ordinarily require you to beat 3000 skeletons during runs before he reared his bony head. You will also earn 2,000 Gold, which is enough to purchase the first several characters in the game. If you don't want to play by the rules, the Konami Code can help you get a head start in Vampire Survivors.
Children Of The Corn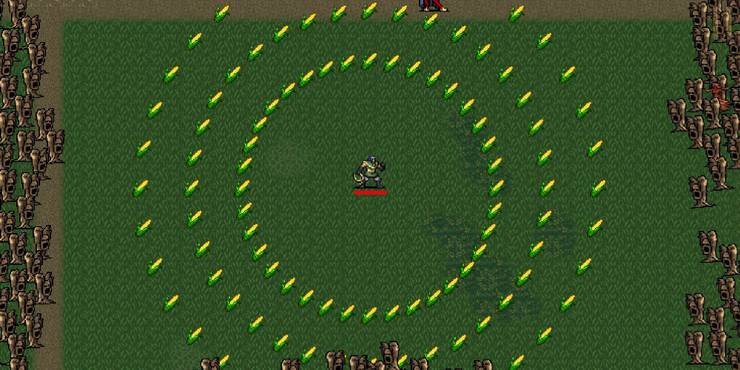 The Forbidden Scrolls of Morbane Relic, found in the depths of the Bone Zone, has a plethora of secrets, both in the form of cryptic hints and special passwords that can be entered to affect various game effects. These range from the obvious, such as early access to characters and stages, to the unusual, such as being dropped into Green Acres within a circle of healing corn.
You can activate this unusual effect by typing 'popthecorn' into the Forbidden Scrolls spell area. As previously stated, the maize heals you when ingested, which can give you a slight advantage if you ration it out throughout the course of the run. Overall, it's more of a curiosity than anything else, possibly trying to channel the innate dread of dense cornfields or the extraterrestrial vibes of crop circles.
Kappa Lake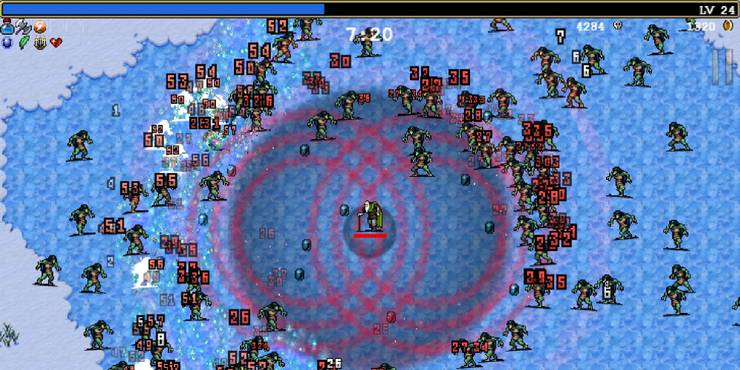 In order to unlock the Gav'Et-Oni persona, you must defeat 6,000 Kappa foes during the Legacy of the Moonspell DLC. This may appear impossible at first because Kappa do not present in the standard opponent waves for the Mt. Moonspell level, but it is actually a sneaky approach for Happy Wheels game to introduce the concept of region-specific foes, which debuted with this DLC.
A frozen lake defended by a Goshadokuro mini-boss and an infinite swarm of Kappa can be found in the north-west area of the stage. You can stay here for as long as you want, steadily accumulating enough Kappa kills to open Gav'Et-Oni. It's a fun secret area, and it helps Vampire Survivors' stages feel more like fully-designed levels rather than endlessly repeating sprite grids.
The Inverted Library's Hidden Piano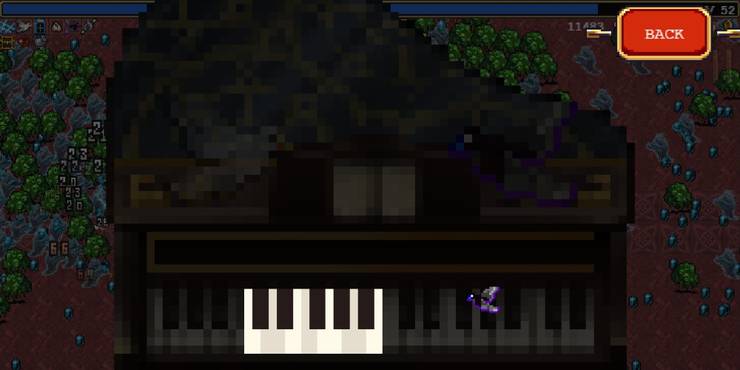 A piano-playing mini-game is arguably the last thing you'd expect to find in a frenzied top-down shooter like Vampire Survivors, but its irreverent sense of humour and strange logic allow for it. This piano will appear as part of the exceedingly complicated unlock process for Avatar Infernas, a mission that will have you acquiring particular weapons on a specific area in a specific mode simply to get halfway.
Once you've done that, you'll need to play a precise sequence of keys to proceed: a sequence outlined by the two bird buddies you'll need to have picked up earlier. If you strike all the appropriate notes, you'll be transported to a dark, coffin-filled lair where you can ultimately track down and destroy the Avatar himself. While it is not directly related to the core gameplay, this is a fun puzzle that demonstrates how far Vampire Survivors is ready to go in terms of secrets.
Overriding Item And Weapon Limits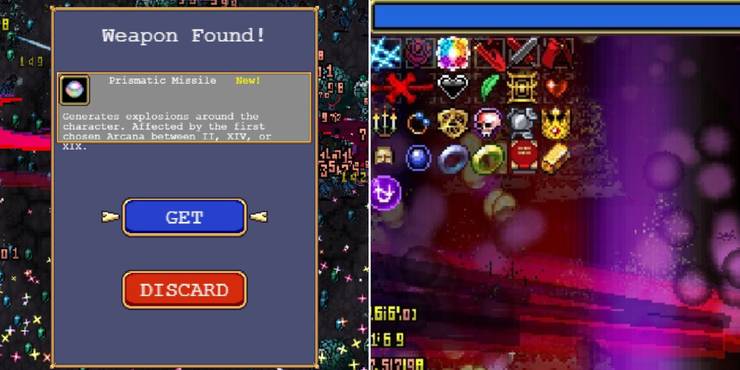 One of Vampire Survivors' best-kept secrets is the ability to collect weapons and passive things even after you've filled up your 12 basic slots, which can offer you a significant advantage in late-game runs. Simply told, after your core slots are full, you can't get new weapons or stuff through levelling up, but you can get them from other sources, such as stage items or the candybox weapon found in chests.
This means you can plan your strategy around the objects that spawn organically in each stage. In the Mad Forest, for example, you can get six passive items when levelling up, then gather the Clover, Pummarolo, Spinach, Hollow Heart, and Skull O'Maniac items that are scattered about the stage to get five more stat boosts on top of the ones you currently have. This is an excellent way to test your characters' abilities.
Halloween Party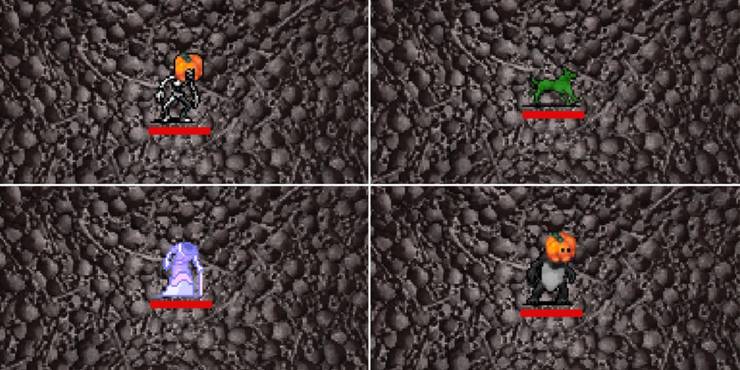 Vampire Survivors is frightening enough for most people, with its cackling ensemble of classic movie monsters and near-certain death at every stage. If you want to increase the horror even more, there's a hidden code you can input in the Forbidden Scrolls of Morbane. The code at issue is'spoopyseason.'
When you enter, you'll be transported to the terrifying Bone Zone stage as Mortaccio, Yatta Cavallo, Bianca Ramba, or O'Sole Meeo, each dressed in a different Halloween costume skin. Their weaponry will be updated as well, with Mortaccio flinging pumpkins and Bianca driving carts filled with bright-eyed skulls. Not only is this a fun way to celebrate Halloween, but it's also a serious struggle, given the low power level of the characters you're assigned and the huge obstacle offered by the Bone Zone.